WELCOME TO LÖWENHERZ TECKELS
Puppies Available ~ Summer 2022
Teckel puppies available to good homes.
Excellent for blood tracking, hunting and hunting sports!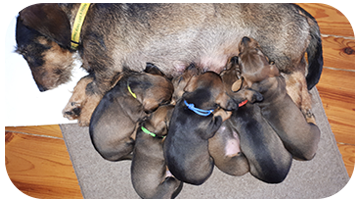 AVAILABLE AT STUD:


Rilke von Lowenherz
2 years old
dam: FC Sylvan von Loweherz ME
sire: GCH DC Columbo vom Mondscheinkreutz
Löwenherz Teckels are bred for intelligence, temperament and hunting ability above and below ground. They are bred from German and other European stock only.
My goal since 1989 has been to demonstrate the variety of abilities and functions these dogs embody. 
They are Gebrauchshund – useful hunting dogs in every respect and amiable companions in the home.
Löwenherz Dachshunds do it all!
8 generations of American Field Trial Champions (Brace on Rabbit) and many times Dachshund Club of America Top Ten Field Trial Dachshunds – dogs who give voice on rabbits (spurlaut)

Earthdog Tests at all levels including Canadian Junior, Senior and Master Earthdog

Blood tracking dogs for finding wounded big game – successfully tracking in various states and provinces

Hunting dogs for rabbits and doves.  They hunt with hawks.

Obedience Trial dogs have successfully competed at all levels in Canada – Novice, Open, Utility, Obedience Trial Champion (OTCH)

Human tracking and  potential Search And Rescue dogs

First Hearing Assistance Guide Dachshund in Canada – Elfie working for a lady in Victoria BC since 2004.
Löwenherz Dachshunds have done it all!
Puppies are available occasionally and are only sold to homes where they can work or hunt or participate in hunting sports as well as be the excellent companion dogs  you want to live with.